As a teacher, you already know that the primary focus of phonics instruction is to help readers understand how letters are linked to sounds (called phonemes). Pretty easy on a basic level, right? We need to build strong phonics skills in order to create strong reading skills.
As a reading specialist, what I often see with striving readers is a strong foundation of basic phonics at the K-1 level, followed by "holes" in mastery of vowel teams, diphthongs and syllabication. I'm talking about students in 2nd grade, 3rd grade and even 4th grade that did not master the foundational skills needed to strengthen reading skills. Why is that, you ask? My experience has shown me that there are many reasons, but I'll list a 3 of the most frequent below:
1.  A student was instructed and the teacher assumes the student "got it" and the class moved on with a different skill focus.
2. There just isn't enough time to adequately address phonics instruction.
3. Phonics instruction can often be boring for older students, especially when it is a worksheet.   
So, what IS the answer? 
PHONICS GAMES = FUN
FUN = MOTIVATION
MOTIVATION = LEARNING
I work with students in grades k-4 and my kiddos beg to play games at the end of our regular reading intervention lessons. I can't argue with students who are motivated to play educational, phonics games. For me it is a no brainer. Increasing a student's phonics skills increases reading success. Want to experience what I'm talking about?
Download my FREE Vowel Team game by signing up below!
I hope you have found this blog post helpful. To stay connected with Teacher Features' teaching tips and classroom freebies be sure to follow on Facebook, Pinterest, Teachers Pay Teachers, and subscribe to my blog!
Like Freebies?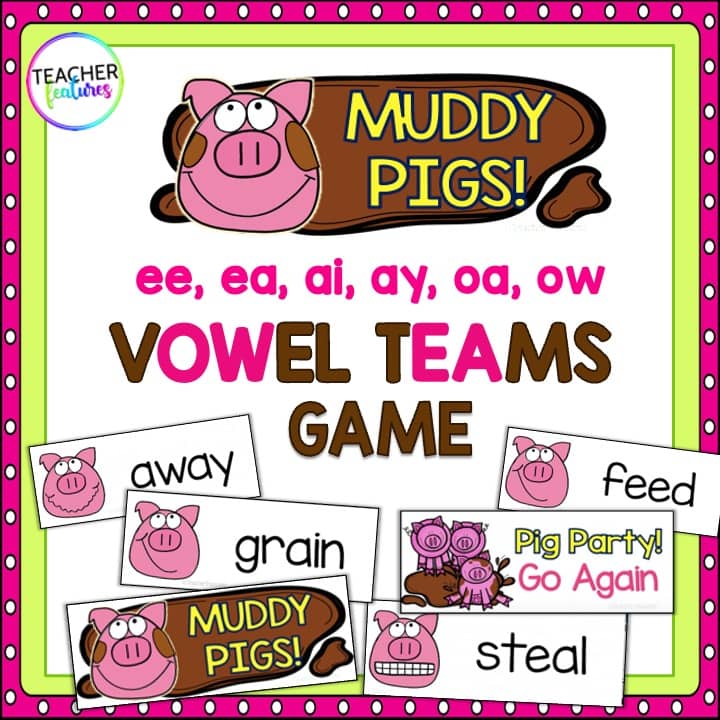 Get your Muddy Pigs Vowel Team Game!