So, you are already be using Google Classroom for digital learning, but what about a digital app called Boom Cards? Digital lessons are fun to teach and make your life easier!  Boom Cards are digital task cards in an educational game format. Along with being no prep for teachers and self-checking, they are also FUN for students because they don't realize they are learning. How is that for boosting student engagement?
BUT WHAT IF I ALREADY USE GOOGLE CLASSROOM OR ANOTHER LEARNING MANAGEMENT SYSTEM?
Great question. You can use Boom Cards with Google Classroom, Canvas, Seesaw, Schoology, Moodle, Blackboard, PowerSchool, or just a plain ol' Word doc/Google doc…and more!      
Already have Google Classroom set-up and need help integrating Boom Cards?  Click below for this handy step-by-step tutorial from Boom Learning. 
USING LINKS TO ASSIGN BOOM CARDS FROM ANY SITE
You may want to assign Boom Cards by using a Learning Management System. There are 2 types of links you can use to assign Boom Cards from any site.
Fast Pins – Instruction or Practice
Fast Pins expire after 5 days. These are for practice or instruction only and don't record student progress. To assign on any site with a Fast Pin, go to your Library, find the Boom Cards deck to be assign, click the blue Action button and select Fast Pin.
Select Generate New Pin and copy the URL. You will paste the URL into your assignment system. Remember Fast Pins expire 5 days after being generated.
Hyperplay Links – Practice with Progress Reporting
Hyperplay Links prompt students to sign in and they result in student progress being recorded. To assign on any site with a Hyperplay Link, go to Library, find the Boom Cards deck to assign, click the blue Action button and select Hyperplay Link.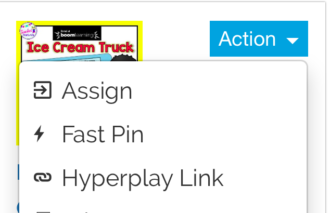 Copy the URL and paste it into your assignment system. Hyperplay Links do not expire. Students will need to be assigned to a class and have a username and password to log in to play Hyperplay Link assigned decks.
I hope you have found this helpful. Stay connected with Teacher Features' teaching tips and classroom freebies by following me on Facebook, Pinterest, Teachers Pay Teachers, and subscribing to my blog!
Becky