[social_warfare]Boom Cards. Ever heard of them? Maybe you've heard of them and have no clue what all of the fuss is about. Well, let me tell you! They are the BEST.
What if you had No Prep to do?
What if all of you student's work checked itself?
What if students received instant feedback?
Whaaaaat?!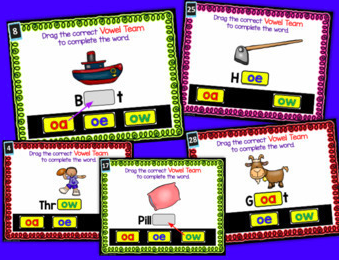 Yes, it is true.
Boom Cards are created by teachers for teachers. Or teachers can create their own for their classroom. You can use Boom Cards on your Ipad, Chromebook, laptop, or anything that has a screen. You can purchase Boom Cards from Boom Learning or from Teachers Pay Teachers. Its so easy!
Students access "decks" which is just another name for digital task cards. Boom will give you reports about how many answers your students completed correctly and how fast they finished. Every student in your class can work on the same deck or on different decks. This is a perfect way to differentiate in the classroom. Here is something crazy- every student can be working on Boom and they can all be working on different levels!
When students sign in they go to their assignment tab and begin working. After they are finished, you'll be able to access their reports. The reports give you the number of correct answers and the time it took the student to complete the task. How awesome is that?
Once you start a FREE account on Boom Learning, all of your decks are automatically stored in your personal Boom Library in the Boom "cloud". (Read the fine print below)
"With your Teachers Pay Teachers purchase, users new to Boom Learning get a three-month free trial of student progress reporting for up to 150 students. Your trial includes the ability to make up to 5 free DIY decks. You may upgrade or cancel at any time. Boom Cards play on modern browsers (released in the last three years) on interactive whiteboards, computers and tablets. Boom Cards apps are also available. Not sure if your browser is modern enough? Try a free Boom Cards deck first. When you redeem your purchase, Boom Learning opens an account for you if you do not already have one. If you do not subscribe at the end of your trial, you will be able to continue using Boom Cards with the Fast Play feature. Fast Play does not track individual progress. If you do not subscribe we will delete your student records 3 months after the expiration of the trial to protect student privacy."
When I say that kids love Boom Cards, I'm not exaggerating. Students get instant feedback from each card- in other words, students know immediately if their answer is correct. When the answer is selected the student hears a sound, indicating if the answer was correct or not (sound can be turned off, if desired).
 What does it look like for you, the teacher?
Its easy to set up a Boom account and classroom. There are numerous self-help videos on the Boom Learning site to walk you through anything you want to know. If you happen to get stuck, the Boom Help Desk is there to answer anything you are wondering. They are quick and wonderfully customer service oriented.
IT TAKES 30 SECONDS TO SET UP YOUR FREE BOOM ACCOUNT:
1. Click on the green box marked "Create" on the BOOM Learning site.
2. Click "Get Started"
3. Set up an email and password for your FREE BOOM Learning account.
4. Your BOOM Cards will be stored for you in the "Library" on the top blue bar.
Definitely worth checking out Boom Cards at Boom Learning or Boom Cards on TpT!
Sign up below to get more FREEBIES from Features4Teachers